Our working process in 4 steps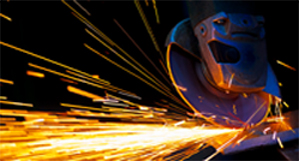 Request
The customer requests one of our products. Then, a quotation that contains the descriptions and the prices of the different requested items has to be sent back. Once the customer agrees, he has to send a purchase order to start the item's fabrication.
The Staff Workers
The Head Manager of the sales department has an experience of more than 30years in this filed; this department includes designers, engineers, sales assistants, technical assistants and 2D, 3D designers.
Fabrication
Workshop 1 is composed of very qualified technicians who are specialized in cutting and holing stainless steel sheets.The same for Workshop 2, we have a group of specialist in welding and assembling equipments.
Distribution
We provides Delivery trucks for our customers all over the kingdom.
What We Do?
Meet the toughest test of performance, exceed the highest expectation of our customers by improving quality and performance. It respects the different steps of the manufacturing process including Marketing, Design, Conception, Production and Delivery. We distributes all stainless steel products mainly for central kitchens and hospitals.
Why Choose Us?

Each of the kitchen solutions which you will find here is crafted and designed with the finest quality stainless steel.

We have a team of experienced and expert professionals who pay attention to every minute detail so that you can get best of the product.

Eco-friendly products that we offer are engineered for perfect kitchen design.

The right blend of style, convenience and aesthetics make our kitchen solutions second to none.

All our products are quality tested and come with International standards. We also provide to our customers after sales services which is an added advantage. No matter what you are looking for your kitchen, we can assure you to offer at never before prices.